What do end-users of data-driven decision-making tools want? What are their needs and how do we translate these into the pilots developed within DECIDE? 

Following the last in-person General Assembly meeting held in Copenhagen in June of this year, DECIDE's work package 5 (WP5) represented by Jasmeet Kaleer, Charlotte Doidge (UoN) and Laura Palczynski (IfA) invited cattle group members and data leaders to a half-day workshop to work on these questions, and share insights into their latest findings on stakeholder needs and perceptions of technology.  
Experienced-based design methods – an approach that focuses on creating solutions by understanding and addressing the needs and desires of users through their experiences – helped the participants to (1) to generate an understanding of what a user need is, (2) to empathise with farmers' and vets' needs, and (3) to apply this understanding to the technological concepts that the cattle members are currently working on.
"Our overall aim in WP5 is to ensure that the tools are developed responsibly with the users (i.e., farmers and vets) needs and values in mind. We have recently analysed qualitative data to identify farmers' and vets' needs of technology and data and wanted to share this knowledge with the other DECIDE group members. However, psychological needs can be quite abstract, and we required a way to make the needs more well defined. Therefore, we conducted this workshop to support researchers who were developing the cattle tools. We used experienced-based design methods such as empathy mapping and storyboarding, which helped the researchers understand the perspectives of farmers and vets and their relevant psychological needs." – Charlotte Doidge (UoN)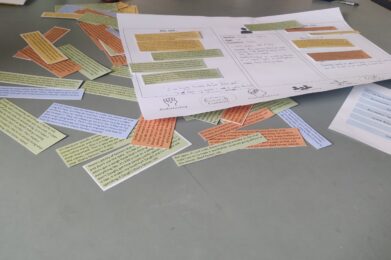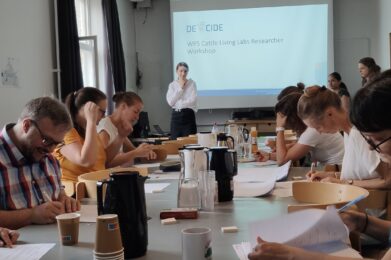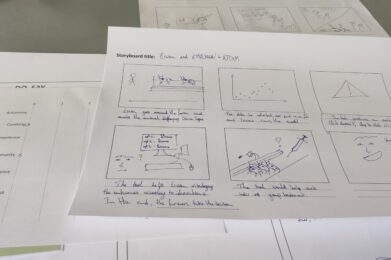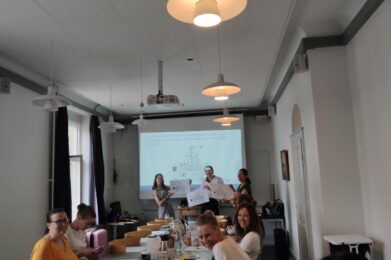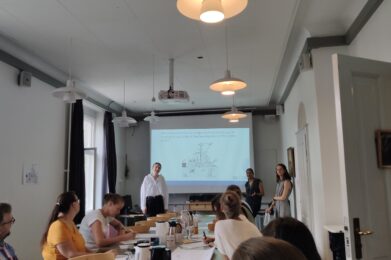 Interdisciplinarity is a substantial part of the DECIDE project. Bringing in diverse perspectives is essential to tackling complex problems – and benefits all disciplines through cross-fertilisation, gaining new insights, and broader impacts. The cattle tool researcher workshop is a good example for this approach in practice – read the attendees' impressions, learnings and thoughts below.
As an animal health researcher with a focus on epidemiology I am often focused on the technicalities of tool development. While we try to take tool end-users´ needs into consideration and we strive to fulfil them, methodologies emerging from the Social Sciences can bring a new perspective. Working in an interdisciplinary fashion, gathering the knowledge from health and social scientists, will result in a more comprehensive and efficient tool development process. This workshop was extremely useful to learn about new ways of looking into users´ needs and provided relevant input for the development of tools conducted within the scope of DECIDE.
The storyboard exercise was eye opening for some of us (for me, in particular): it highlighted the areas where we had gaps and needed to go back to the users to ask for more information/clarification.
We are supposed to be animal health experts and all we want is to be useful and support our farmers in their work. In that sense, I think we often have their potential needs in the back of our heads. But the interactive workshop was really something new, where we got to identify the specific needs that our tools could meet. It gave some new insights and was also a lot of fun.