The pig group is composed by five institutions namely Institute of Agrifood Research and Technology (IRTA), Statens Veterinärmedicinska Anstalt (SVA), Scotland's Rural College (SRUC), Animal Health Ireland (AHI), and Royal GD. Our overall objectives are twofold: (1) To develop pilot dashboard(s) to monitor health indicators using syndromic surveillance, and (2) To develop models that integrate different sensor data capable of raising early warnings to occurrences of disease in pigs.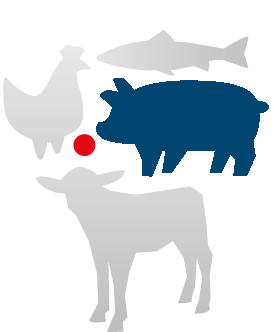 Monitoring dashboard(s)
The group has focused on knowing what the interest and needs of the stakeholder(s) are regarding decision-making support tools before starting to develop any pilot. In such regards, several focus groups with veterinarians and/or farmers have been performed in different countries. Also, a concept design with a living lab approach is being used in some cases to enhances collaboration between farmers, veterinarians, and researchers.
For the monitoring/visualization dashboard(s), data of different nature is being collected and integrated into existing or newly developed dashboard(s) to which different stakeholders have or will have access to. Examples of collected data are: laboratory (diagnostic) data, post-mortem (slaughterhouse) data, or ​production (management) data.
Besides, applied time series analyses are being employed for combining different streams of sensor data collected in pig production for detection of or forewarning about undesired (diseases) events.